Theatr Genedlaethol Cymru and Theatr Iolo return with Christmas show
Theatr Genedlaethol Cymru and Theatr Iolo are delighted to announce that, following the success of the children's show Llygoden yr Eira in 2019, they will be touring the production again in the run-up to Christmas. Llygoden yr Eira is a Welsh-language adaptation of the sell-out children's show, Snow Mouse, originally created by the egg and Travelling Light.
An enchanting winter's tale for children under 5 and their families, Llygoden yr Eira is filled with play, puppetry and music. The show follows a child as he finds a little mouse fast asleep under the snow in a magical forest. Sliding, tumbling and laughing, the two new friends explore the winter wonderland together. Featuring delightful characters and visual storytelling, this is a festive family treat for both Welsh speakers and learners alike.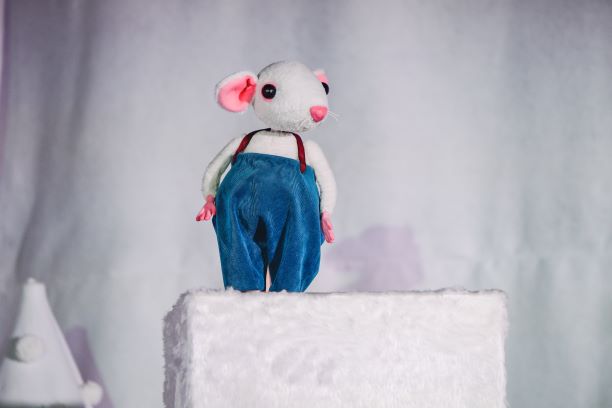 Arwel Gruffydd, Artistic Director of Theatr Genedlaethol Cymru, said: "We're pleased to be working with Theatr Iolo once more on this delightful show for very young children and their families. We're also delighted to be taking the production to small venues up and down the country in the run-up to Christmas. For many, this will be the first time back in the theatre after a very challenging couple of years, and we will be working with venues to make that experience as safe and as delightful as possible. Set in a magical winter wonderland, this is an enchanting and accessible theatre experience, where language, music and play combine."
Following on from his recent successes of HOOF!, Theatr Iolo's outdoor production with Kitsch and Sync, and Christmas Carol at the Bristol Old Vic, Lee Lyford, Artistic Director of Theatr Iolo, will again be directing Llygoden yr Eira. Lee said: "We're delighted to be working with Theatr Genedlaethol Cymru once again, to bring Llygoden yr Eira back to stages across Wales. Llygoden yr Eira is the perfect way for families to enjoy the magic of winter together and to support their local venues as they gradually reopen after a challenging two years. We can't wait to share this gorgeous tale, reimagined in the Welsh language, with communities and venues across Wales."
Llygoden yr Eira will once again star Iwan Garmon.  Iwan is based in north Wales and has previously worked with both companies. He was a member of S4C's BAFTA Cymru-nominated television series 35 Awr by Fflur Dafydd in 2019 and has also previously worked for the RNIB and Cwmni Mega.
Ffion Wyn Bowen from Aberystwyth, is the Associate Director for Llygoden yr Eira. An experienced director and actress in productions for children and young people, Ffion was Associate Director for the production in 2019 and will return once again for the 2021 tour. 
Llygoden yr Eira will visit venues across Wales during November and December 2021 and will include audio – described performances. See below for a full list of the tour dates.
The Tour:
Ffwrnes, Llanelli
18.11.21 – 20.11.21
Home - Carmarthenshire Theatres (theatrausirgar.co.uk)
Theatr Brycheiniog, Brecon
23.11.21
Chapter, Cardiff
25.11.21 – 27.11.21
Pontardawe Arts Centre
30.11.21
Memo Arts Centre, Barry
01.12.21 + 02.12.21
The Welfare, Ystradgynlais
 03.12.21
Aberystwyth Arts Centre
04.12.21 + 5.12.21
Theatr Clwyd, Mold
09.12.21 – 11.12.21
Theatr Derek Williams, Y Bala
13.12.21
Galeri, Caernarfon
16.12.21 – 18.12.21